Behold, behold! Embark upon a grand journey with this extraordinary creation tailored exclusively for the purpose of guiding your valiant Barbarian through the realms of leveling. Prepare to unleash a torrent of devastating damage over time upon your foes, ensuring their demise as you fearlessly forge ahead on your noble quest.
Unlock the potential of your character by harnessing the power of leveling builds, propelling them towards the pinnacle of level 70. Once there, delve into the art of crafting the perfect armor and weaponry for your fierce Barbarian, tailored to suit your desired build, as you brace yourself for the thrilling trials that lie ahead.
Input: Note that you won't be able to utilize all of these Skills and Passives right away, so get creative and explore alternative Skills in the meantime. Leveling builds offer a lot of flexibility, so don't hesitate to experiment with different abilities to help you determine your ultimate build. (Hint: Don't forget to activate "Elective Mode" in Settings -> Gameplay for seamless mixing and matching of skills across different categories.)
Skills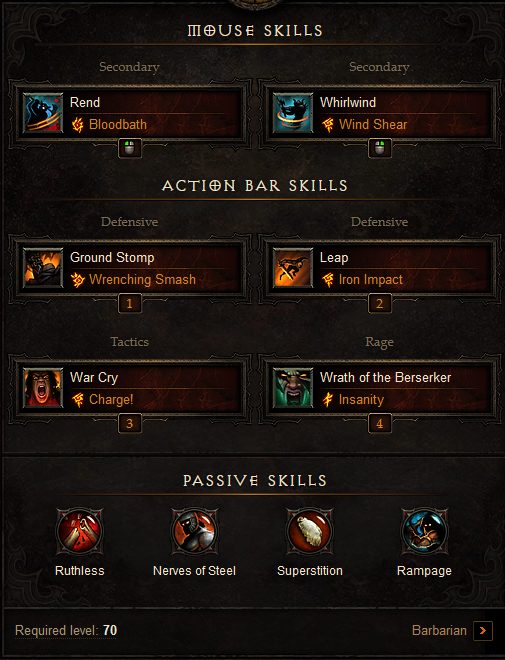 Unlockable levels are denoted by numbers enclosed in brackets.
Unleash the fury of Rend [4] (Bloodbath Rune [56]) – the ultimate weapon in your arsenal, dealing devastating damage. Employ its lethal power to inflict a merciless deathly bleed upon hordes of enemies, leaving them no chance to escape their inevitable fate.
Earthquake Slam [4] (Crushing Impact Glyph [18]) – forcefully attracts adversaries towards you, leaving them immobilized, thereby enabling you to unleash Rend upon a larger number of foes.
Bound [8] (Steel Impact [14]) – bestows upon you unparalleled agility and formidable defense.
Cyclone [20] (Gale's Embrace Rune [44]) – behold, the embodiment of your raging tempest, fueling your inner wrath.
Input: Battle Shout [28] (Rush! Inscription [35]) – bestows upon you enhanced damage mitigation and an additional means of rousing your inner Fury.
Unleash the Fury of the Savage [30] (Chaos Glyph [40]) – an awe-inspiring enchantment that elevates every facet of the Barbarian.
Passives
Unlockable levels are denoted by numbers enclosed in brackets.
Uncompromising [10] – enabling Rend to effortlessly vanquish foes.
Steadfast Resilience [13] – grants you an impregnable shield when facing imminent demise.
The Eerie Enchantment [30] – bestows enhanced damage mitigation and a tantalizing opportunity to obtain additional Fury.
Rampage [68] – enhances both offensive prowess and defensive resilience.
Resources & Links