Taka put close to 6000km on a set of Pirelli Diablo Rosso IV sports street tyres and came away from the test very impressed. Check out his review of these versatile hoops…
Taka, our esteemed tire tester, recently completed an extensive endurance trial of the Pirelli Diablo Rosso IV. He put these remarkable all-weather sports/sports touring tires from Italy to the test by clocking nearly 6000km on his MT-10. Taka was thoroughly impressed by their performance, and now you can read his detailed review.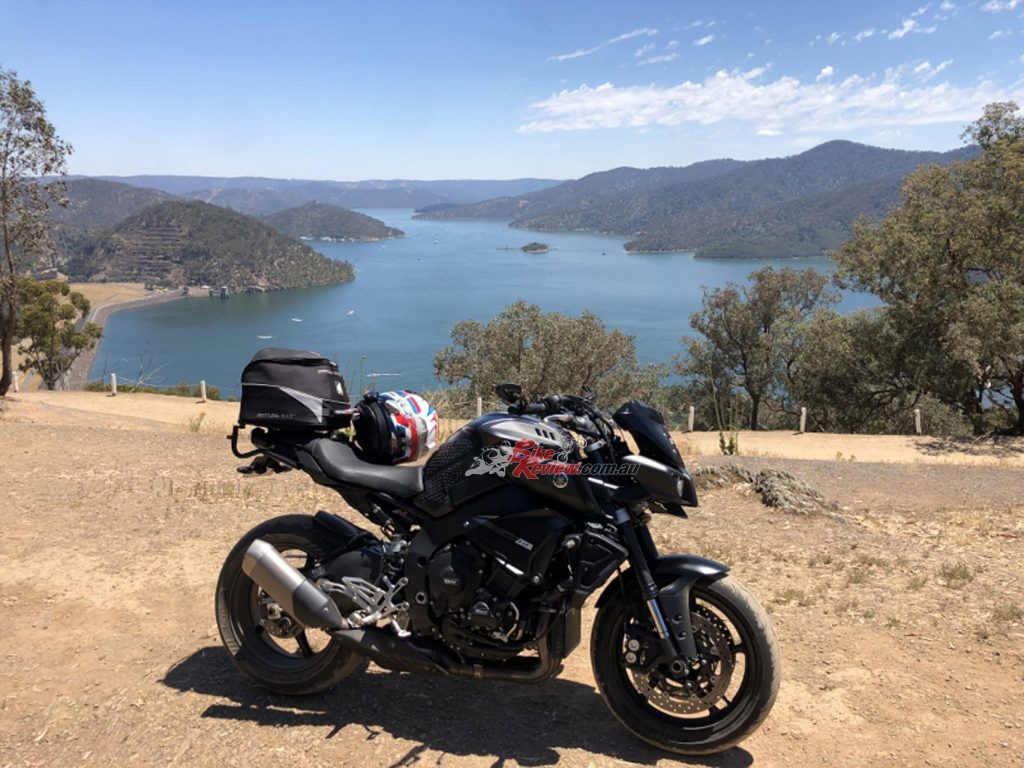 During the summer season, Taka embarked on an adventurous journey with his Yamaha MT-10, covering an impressive distance of approximately 6000km on a remarkable set of Pirelli Diablo Rosso IV tires.
Once again, my enthusiasm reached its peak when I received another batch of Pirelli tires for review. Exploring various tires for both my road and track bike has become a captivating pursuit for me. Thus, the arrival of a brand new set of Rosso IV (pronounced Rosso Quattro) tires from Link International, the esteemed importer and distributor of Pirelli, had me eagerly awaiting their presence at my doorstep.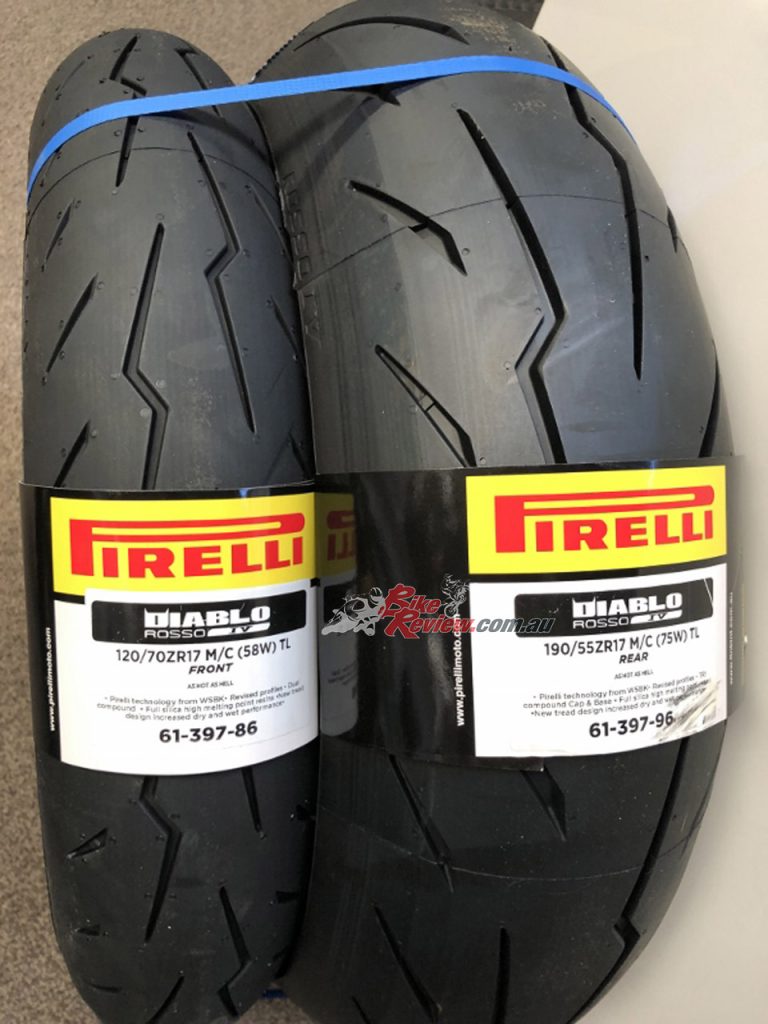 Taka, a tire enthusiast, skillfully fits and harmonizes his tires in the comfort of his own home. According to him, the installation process was a breeze, and the tires achieved impeccable balance effortlessly.
As soon as I laid my eyes on the tyres, the captivating embossed name on the tread's edge instantly caught my attention, radiating an undeniable coolness. The sleek design of the fresh grooves also resonated with my aesthetic preferences. My MT-10's dimensions gracefully boasted a size of 120/70 – 17 for the front and 190/55 – 17 for the rear. Without hesitation, I swiftly extracted my wheels and promptly adorned them with the perfectly fitted tyres.
In the blink of an eye, I whispered to myself, "These exude the unmistakable essence of Pirelli."
In the realm of tyre maintenance, I've always adhered to the timeless practice of fitting my own tyres using trusty old tyre levers. It has become second nature to me, a skill honed during my youthful days of racing in Japan where I would tirelessly swap tyres throughout the weekends. Recently, I experienced a seamless installation of the DRIV tyres; their supple sidewalls provided a pleasant initial indication of their quality and performance potential.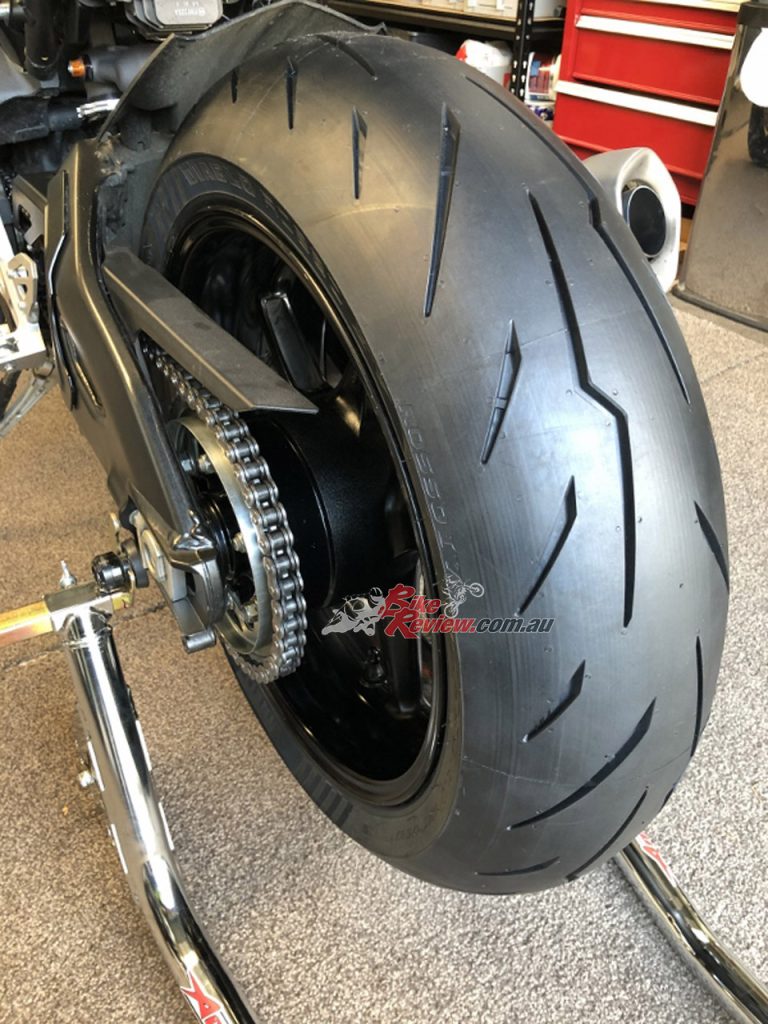 Taka embarked on his maiden journey with the Diablo Rosso IV, encountering typical challenges and enjoying a pleasantly cool 15ºC day.
I set the front and rear tyres to OEM (Yamaha) recommended pressures (cold) for the MT-10 and geared up ready for my first ride on the tyres. It was 15ºC and sunny and I planned on a short ride to scrub them in and get a feel for them. Interestingly, within a very short distance I said to myself, "These have that special Pirelli feel". I think if I was blindfolded when my tyres were fitted and sent off on a ride to identify them, I would be very confident in saying they were Pirelli's. Maybe we can run a competition Jeff? The prize can be the tyres!Output: With the front and rear tyres set to the OEM (Yamaha) recommended pressures (cold) for the MT-10, I eagerly prepared myself for my inaugural ride. The weather was a delightful 15ºC and sunny, making it the perfect opportunity for a brief ride to break in the tyres and acquaint myself with their characteristics. Surprisingly, within a mere distance, I couldn't help but think to myself, "These possess that distinct Pirelli essence." In fact, if I were blindfolded during the installation of my tyres and sent off on a ride to identify them, I would undeniably and confidently proclaim them to be Pirelli's. Perhaps we should consider organizing a competition, Jeff? The ultimate prize being
Getting into the groove was a breeze. I embarked on my journey with utmost care, ensuring a gradual tilt and gentle application of brakes, allowing the tire's temperature to rise steadily. The process of scrubbing in usually spans approximately 100km on regular roads, depending on various factors like weather conditions and the number of bends encountered. Unlike the racetrack, where a single lap suffices, road riding demands a bit more patience. Gone are the treacherous days of slippery new tires; nowadays, all tires are designed to facilitate a safer scrubbing-in experience.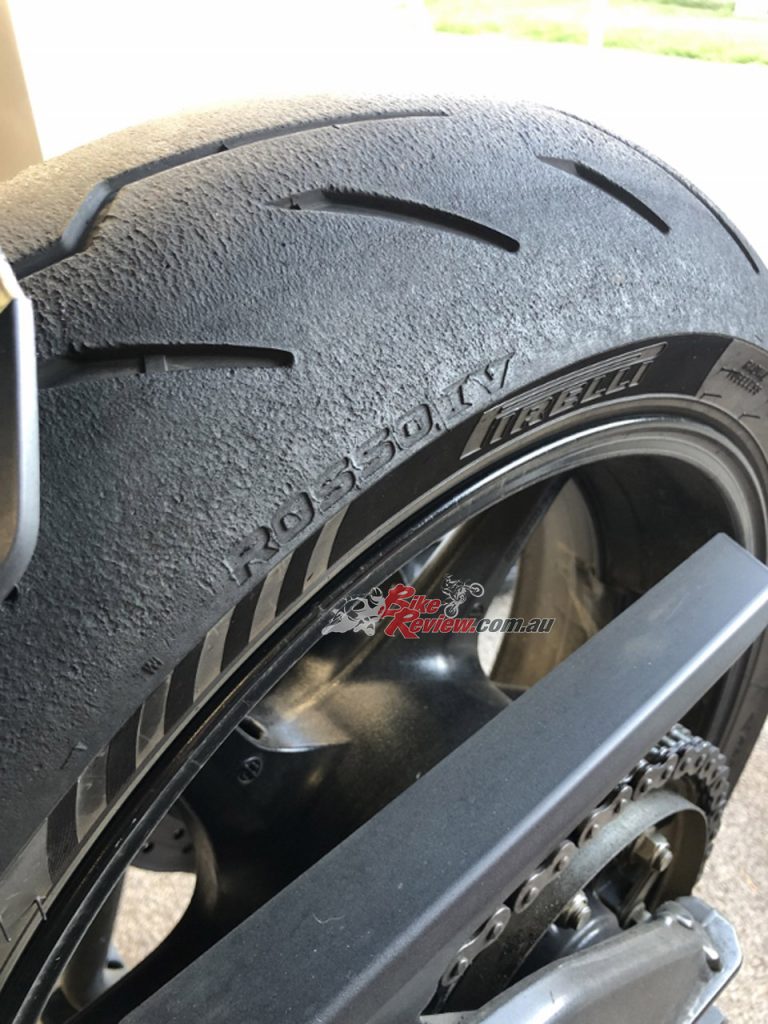 Upon completing the preliminary cleansing and embarking on a brief journey to acquaint himself with the DRIV, Taka ventured into the neighboring hills to indulge in some amusement. To his astonishment, he found himself thoroughly captivated.
Throughout the countless kilometers of riding ahead, the Pirelli Diablo Rosso IV never failed to leave a lasting impression. These remarkable street sports tires possess outstanding durability, unwavering performance, and an impressive grip that never falters. They offer a seamless and balanced handling experience, particularly when gently leaning into corners, striking a perfect equilibrium between agility and aggression, unlike their sportier counterpart, the Rosso Corsa II.
Explore Taka's intriguing collection of tire reviews here…
Despite its adhesive nature, the DRIV exhibits a smoother and more organic maneuvering experience when compared to its high-performance counterparts. Its ability to absorb bumps and provide cushioning is also gentler in comparison to the likes of Rossi Corsa II or other sporty/racing tires, resulting in a more enjoyable ride on our less-than-ideal road conditions.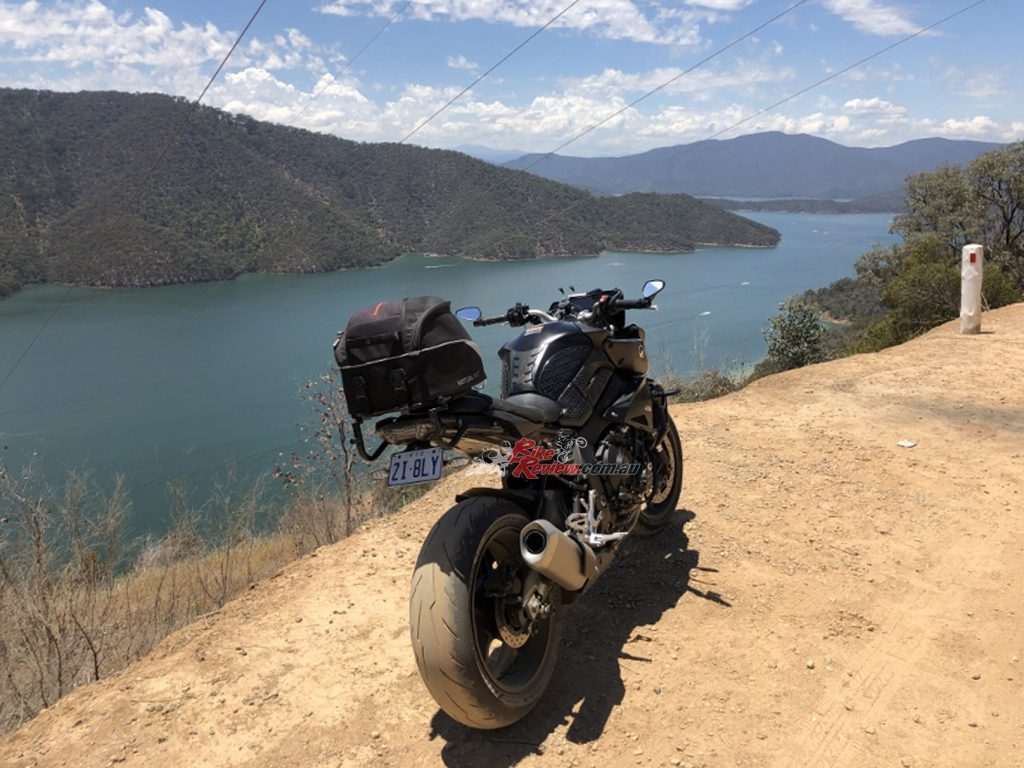 Taka subjected the DRIV tires to an array of challenging terrains and weather conditions, ranging from serene hills to bustling city streets, uneven rural roads, varying wet and dry climates, and even a touch of dirt!
As I maneuvered my MT-10 through the winding mountain roads, I was pleasantly surprised by its nimbleness and seamless cornering. The DRIV's exceptional handling qualities truly enhanced my riding experience, turning it into a sheer delight. As I pushed the boundaries and approached the edge, I couldn't help but notice the occasional bumps along the way. To counter this, I decided to slightly reduce the tire pressures by 3psi on both ends, allowing me to extract even more tactile feedback from the tires. After all, I relish the sensation of a wider tire footprint beneath me.
"The Pirelli tires not only offer exceptional traction, but they also offer valuable insights and feedback, instilling confidence in various road conditions."
With the optimal tire pressure, these remarkable Pirelli's not only deliver exceptional traction but also offer invaluable insights and instill unwavering assurance in any road scenario you may come across. Be it the front or the rear, neither end disappoints, ensuring a seamless and devoid of any unpleasant skids or unexpected twists. Moreover, their performance in wet weather conditions is commendable, providing ample grip and feedback at both ends.
In my opinion, the Diablo Rosso IV can be described as a cutting-edge tire designed for sports touring. While the lifespan of the tire reached approximately 6000km for me, it is important to note that this may differ for each individual rider. What stood out to me was the minimal decline in performance, striking the perfect balance between high performance and touring capabilities, which perfectly suited my MT-10 bike and my preferred style of riding. If you have yet to experience Pirelli tires, I highly recommend giving these a try. And for those who are already loyal Pirelli enthusiasts, prepare to be thoroughly impressed by this exceptional offering.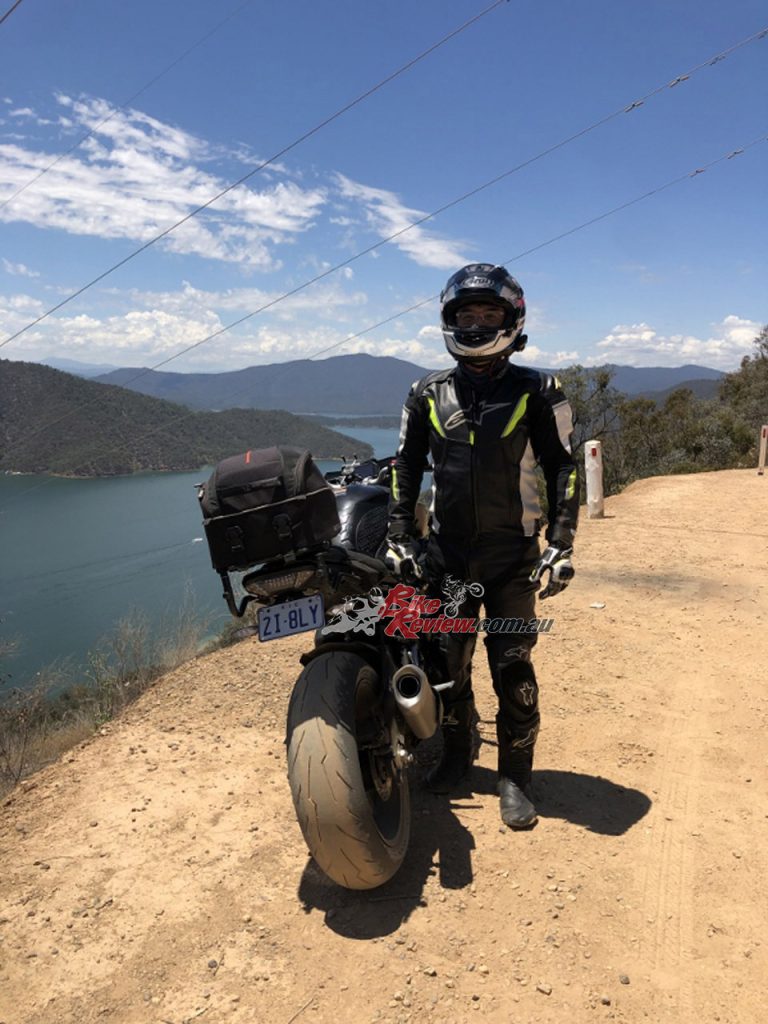 TECH TALK.
Pirelli's impressive collection of Diablo tires expanded and elevated with the introduction of the Rosso IV, unleashing a new realm of possibilities. Pirelli confidently declared that this all-weather tire caters to supersport, hypersport, and naked models, delivering exceptional performance to riders of every skill level. Our firsthand experience confirmed the undeniable truth of their claims.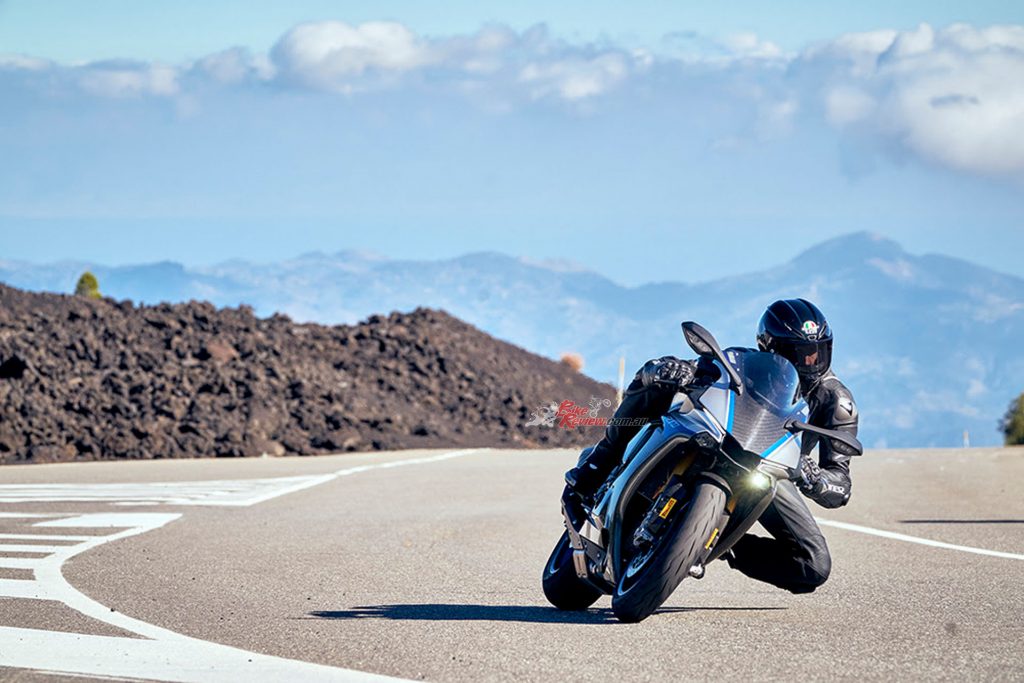 The tread design of Diablo Rosso™ IV revolves around the iconic Flash™ symbol, a renowned emblem of Pirelli tires.
The tread pattern design of the Diablo Rosso™ IV showcases sleeker mid-lean zones, representing a remarkable advancement from its predecessor, the Diablo Rosso™ III. It provides unparalleled stability during lean angles exceeding 35°, rendering water drainage ineffective. Consequently, the tire boasts a substantial slick surface on its shoulders, ensuring exceptional traction and impeccable trajectory control when navigating sharp corners with extreme lean angles.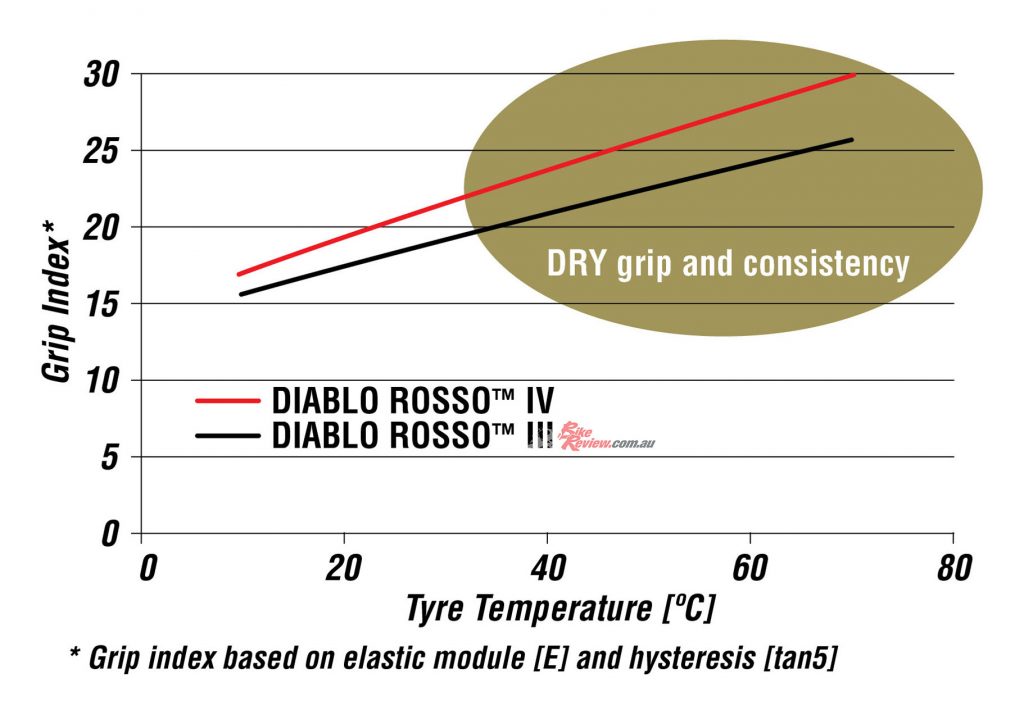 The newer Diablo Rosso III tires have brought about a remarkable improvement in both dry grip and overall consistency, surpassing their predecessors.
The tread pattern of the Diablo Rosso™ IV is ingeniously crafted, taking inspiration from the iconic Flash™ symbol that is synonymous with Pirelli sport tyres. With its two striking centre grooves, Flash™ guarantees impeccable handling and steadfast wear resistance. Additionally, it efficiently channels water away from the contact patch when the tyre is in an upright position. The meticulously placed tails, varying in length, elegantly trace the mid-lean grooves, playing a crucial role in enhancing the tyre's performance by offering optimal flexibility, effective water dispersal, and uniform wear characteristics.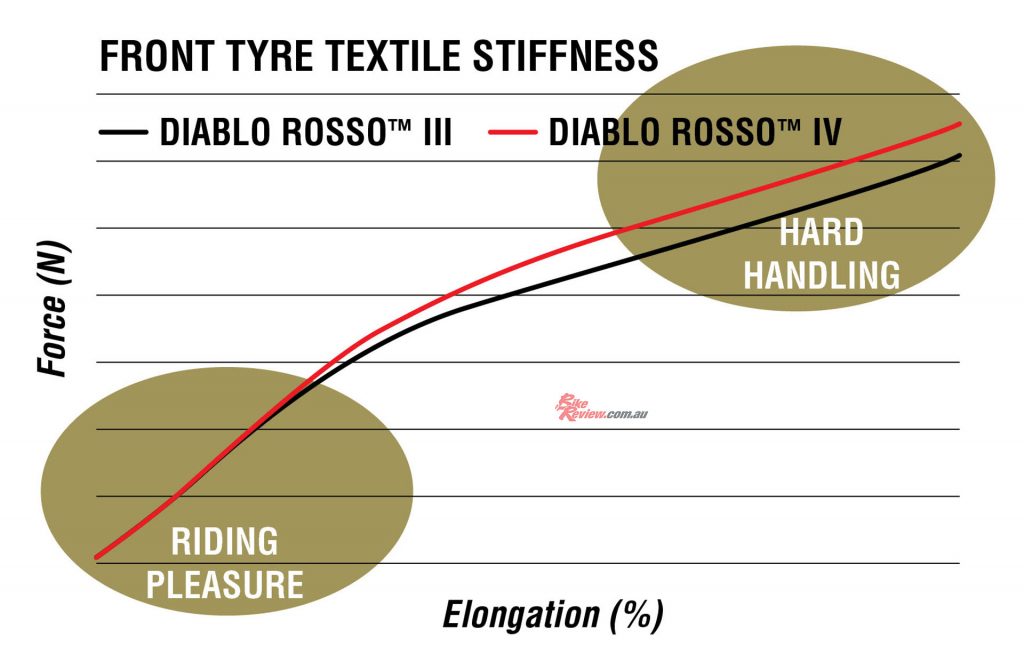 "Incorporating a Silica-infused, multi-compound technology within both the front and rear tires, the Rosso™ IV proudly showcases its advanced features."
The Rosso™ IV flaunts an infusion of Silica, enhancing its multi-compound feature in both the front and rear tires. With structures and contours inspired by WSBK, Pirelli has spared no expense in its development, evident in the fearless confidence the Rosso™ IV instills. Brace yourself for exceptional braking grip, an adrenaline-inducing thrust in extreme lean angles, and impeccable traction as you power out of corners.
The front tyre's tough outer layer provides exceptional traction in chilly and damp weather. When leaning at angles over 35°, the softer side layer comes into play, offering superb grip and an incredible tactile connection. The latest Diablo Rosso™ IV' enhances the stiffness of the Rayon cords by using a larger section of tightly twisted strands strategically positioned along the tyre's shape, resulting in varying degrees of stiffness based on the lean angle. This combination allows riders to fine-tune their trajectory while cornering or to delay braking before entering a lean.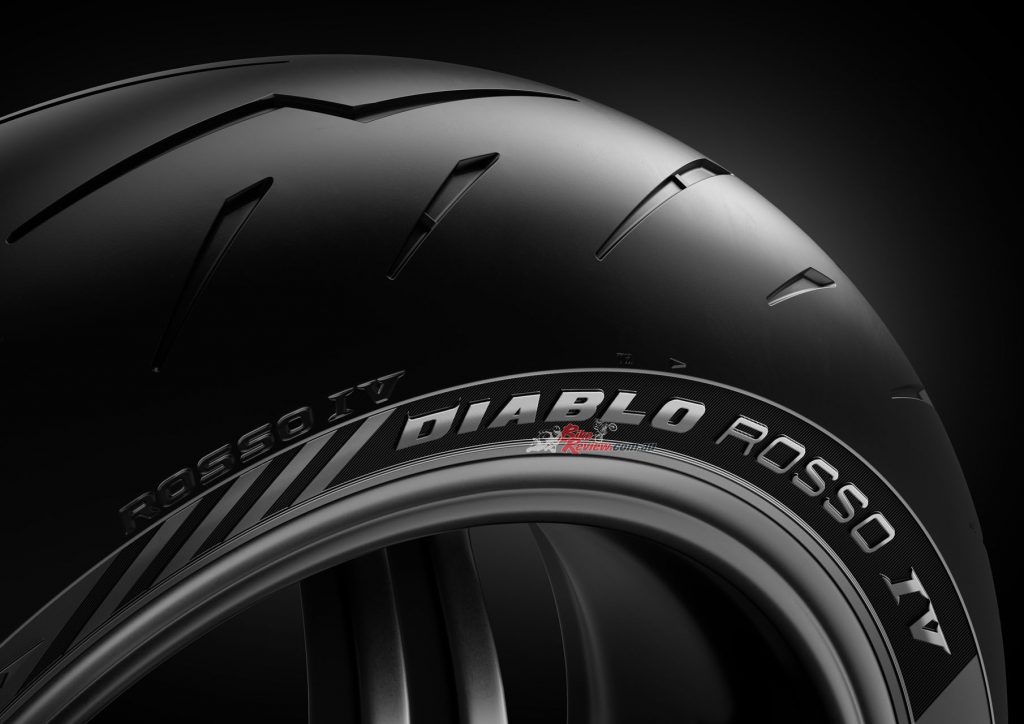 "Experience an unprecedented increase of over 30% in chord stiffness, surpassing even the remarkable Diablo Rosso™ III."
The rear tire, with a size of up to 195/50 r17, showcases an innovative Rayon 2-wire strand structure. By increasing the chord stiffness by over 30%, compared to the Diablo Rosso™ III, more space is freed up for the compound to excel. Furthermore, the fully silica-based dual compound rear tire guarantees a rapid warm-up and exceptional grip, regardless of the lean angle, even in wet weather conditions. Opting for a dual compound with enhanced continuity ensures ideal stress distribution and uniform wear, taking into account the tire's dimensions and contact patch.
With its innovative 5-zone design, this endurance-racing compound dares to sacrifice wet grip at high lean angles in exchange for an exhilarating surge in thrust, perfectly suited to handle the mind-boggling cornering speeds and the awe-inspiring power unleashed by cutting-edge performance motorcycles. Its unique 3-wire strand Lyocell structure sets it apart from ordinary street tires, offering a remarkably lower deformation ratio. Moreover, the supple full silica mid-rubber strip guarantees exceptional performance, while ensuring a secure and sporty journey through any weather Mother Nature throws its way.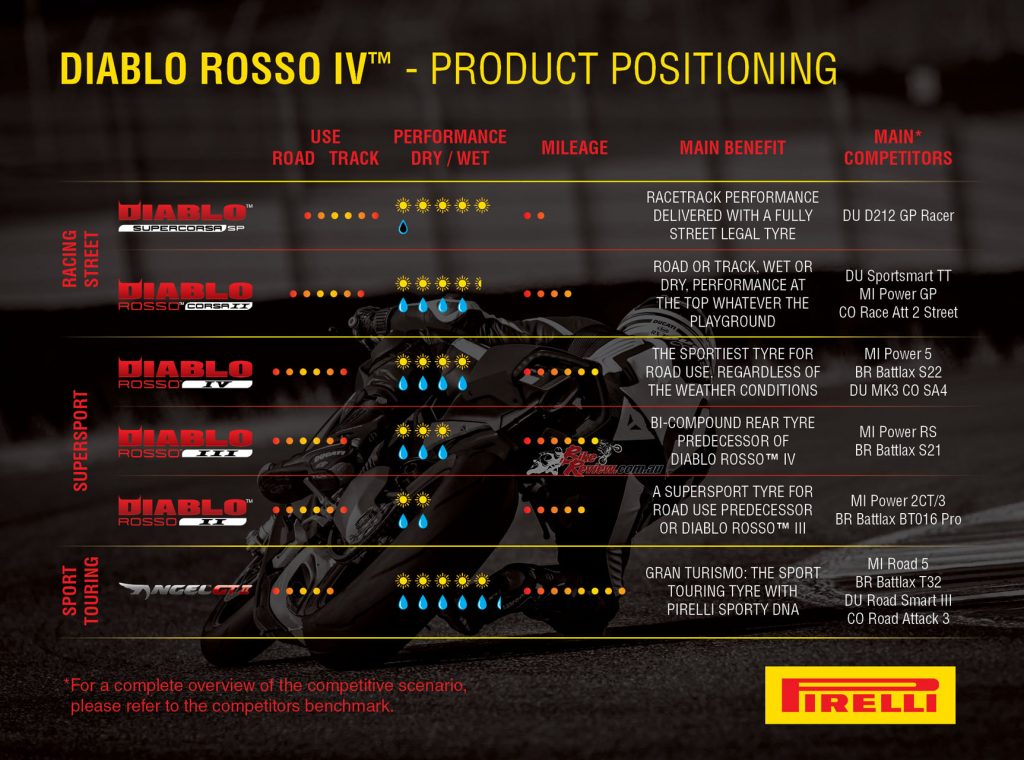 Discover the captivating Rosso IV, now within reach in Australia! Explore an exquisite range of sizing options by delving into the chart provided below.
Discover the all-new Pirelli Diablo Rosso™ IV, ready for you to explore! Dive into the world of this revolutionary tire by clicking here. Unleash your bike's full potential by referring to the meticulously crafted sizing chart provided below, ensuring the perfect fit.

Pirelli Diablo Rosso IV Sizing Chart
Front.
Experience the sleek and powerful 110/70R17 M/C 54H TL Diablo Rosso IV Front tire, shining with its unbeatable performance. This remarkable tire, with its unique design and advanced technology, is ready to conquer any road ahead. Embrace the thrill of the ride with the 61-397-84 model, now available for just $199.95.
The front tire, known as Diablo Rosso IV, is available for $219.95. Its specifications include size 110/70ZR17, with a load index of 54 and a speed rating of W. The tire is tubeless and features TL technology.
Experience the exhilaration of the 120/60R17 M/C (55W) TL DIABLO ROSSO IV FRONT 61-397-88, now available at an irresistible price of $219.95.
The TL Diablo Rosso IV front tire, with a size of 120/70ZR17 M/C (58W), is available at an attractive price of $229.95 under part number 61-397-86.
Rear.
Experience the exceptional performance of the DIABLO ROSSO IV REAR 61-397-89 tire, with its impressive size of 140/70R17 M/C 66H TL. Embrace the thrill of the road and unleash your adventurous spirit for a mere $209.95.
The remarkable Diablo Rosso IV Rear tire, with a size of 150/60R17 M/C 66H and a tubeless design, can be yours for just $239.95 (part number 61-397-90).
The remarkable price of $279.95 is attached to the incredible 150/60ZR17 M/C 66W TL DIABLO ROSSO IV REAR 61-397-91.
Embrace the mighty 160/60ZR17 M/C (69W) TL DIABLO ROSSO IV REAR 61-397-92, priced at a mere $289.95.
The thrilling Diablo Rosso IV rear tire (size 180/55ZR17) with TL (tubeless) technology and a speed rating of 73W is available at an enticing price of $329.95 (item number: 61-397-93).
Unleash the power of the road with the mighty 190/50ZR17 M/C (73W) TL DIABLO ROSSO IV REAR 61-397-97, priced at a tantalizing $339.95.
The thrilling DIABLO ROSSO IV rear tire, with a size of 190/55ZR17, is a motorcycle tire designed for speed and performance. With an impressive load capacity (75W) and tubeless technology, this tire guarantees a smooth and exhilarating ride. Unleash the power within with the DIABLO ROSSO IV, available at an irresistible price of $349.95 (part number: 61-397-96).
$349.95 is the price for the 200/55ZR17 M/C (78W) TL DIABLO ROSSO IV REAR 61-397-98, a tire that exudes power and style.